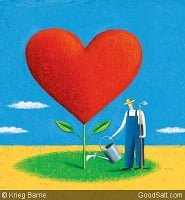 Carol knew the nausea would go away, but it was too much to endure sitting in the pews. At home she slept a while and then turned on the computer and within a couple of hours she was listening to Pastor Randy Roberts preaching at the Loma Linda University church.1
What was that he was saying? What?
Pastor Roberts was speaking with urgency. He was saying that no doctrine, no teaching, no lifestyle issue, no Scriptural interpretation—nothing—was as important as the command to love one another.
He dug in deeper. Righteousness by faith.  A key doctrine. A vital cornerstone of Seventh-day Adventist theology. But not as important as loving one another. Eating and drinking the right things, living healthfully. Urgent, yes, but nowhere as urgent as our need to show love to one another. Living without transgressing the law. A noble objective. But useless unless there is love. Not just love to those who believe as we do, but love to the Buddhists, the Muslims, the pagans, the atheists, the Christians of every faith. As much as we like being right and as firmly as we believe we hold the truth, it's as flimsy as gauze in the fire compared to the power of love for all.
Carol asked God to send the Holy Spirit. "Every time I feel that my version of truth is critical to the salvation of others," she prayed, "remind me that it is nothing compared to Your love. Fill my heart with Your love and help me to show that love to others."
---
[Thought Questions for Paul's Pastoral Appeal November 23, 2011]
1.     The passion of Paul.  How important was correct doctrine to Paul? Why did he earnestly plead with early Christians on issues such as salvation by faith and circumcision? Would you go so far as to say that Paul was passionate about the way the gospel works? What changed in Paul's tone (Galatians 4:12-20) after his fervent pleas to the New Testament church to understand truth? Did Paul's role in the leadership of the church change? If not, what did change that made it possible for Paul to speak of matters more important even than these intriguing doctrinal issues?
2.     Be like me.  Was Paul serious? Did he actually long for every Christian to copy him in every way? Or is there more than one way to be "like" another person? Can you be "like" someone else without knowing that person? How well did Paul know his first converts in Galatia? What was his attitude towards those he had brought into the church? What could be the greatest possible concern on their behalf? Do you ever agonize over the waywardness of family members or friends you have nurtured in the faith? Does the plea, "Be like I am" fit the relationship you have towards them? How can we keep such a request from being self-centered?
3.     Paul the example.  Wasn't one of the primary functions of the incarnate Christ to serve as our example? Then why should Paul stand up before believers in the apostolic church and beg them to follow his example? What aspects of Paul's life demand our wholehearted emulation? Was it really Paul's behavior he was imploring the early Christians to imitate? If not, what was the aspect of his Christian life that was worthy of following? Which is easier, to obey by being or to obey by doing? What does God want most of us to do? Why?
4.     Playing with words.  Do you find it frustrating when Paul asks his listeners to be like him and then turns around and says they're already like him? Do you think his whimsy with words was obvious to his listeners? Did he reserve a big part of his heart for appreciating his church members? If so, what did Paul seem to appreciate most? In what way did Paul "contextualize" the gospel in the book of Galatians? Do you think we should do more of that (contextualizing) today? Why or why not?
5.  Falling away. Do you sense from reading verses 15-16 of Galatians 4 that Paul is feeling spiritual pain from the change in the believers' attitude towards him? Why? What had changed? Are changes in loyalty an inevitable result of the passage of time? Is apostasy a natural consequence of being human? If not, then why is it so common? Or are we free from apostasy in God's church today? Was it lack of faith by the Galatians that caused Paul to suffer from physical ailments? Could God have healed Paul and made him stronger than before? Why do you think He didn't?
6.    The truth.  Have you ever encountered truth that hurt? Are you a person who delivers the truth no matter how much pain it may cause? Or one who holds back and would rather say nothing than risk hurting another person? What was Paul's attitude towards truth and love? Did he prefer truth to love? Do you and I value love more than truth? Or truth above all? Why is it so difficult to strike a balance between truth and love? In terms of love and truth, what seems to trouble Paul most about the Galatian believers at this time?
7.   Contradiction.  Does God reject all controversy? Is it wrong to express disagreement with a fellow believer? Have you ever known someone who seemed to have a contradiction on the tip of his (or her) tongue no matter what is said? Do arguments always hurt? Is it wrong to question what Paul is saying in his epistle to the Galatians? Can God sanctify our questions so that even our uncertainties draw us closer to Him in love? Is so, how?
Farmer Growing Heart Shaped Plant Image © Krieg Barrie from GoodSalt.com ↩
Amen!

(

0

)

Print/PDF/Email