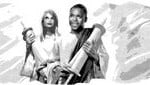 Key Thought : In the end, the righteous will be saved, review God's judgments, see the final sentence upon evil, and dwell in a new heaven and earth in peace and joy.
[Teaching plan for When All Things Become New December 24, 2012]
1. Have a volunteer read Revelation 20:1-5.
A. Ask class members to share a short thought on what the main idea of this text is.
B. What's this bottomless pit that Satan is cast into and what is this […]