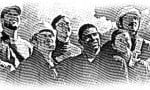 Key Thought : As members of the body of Christ, each of us has a personal ministry in the sharing of what He has done for us, and a responsibility to support the local and worldwide work of evangelism.
[Teaching plan for "Every Member Ministry" April 9, 2012]
1. Have a volunteer read 2 Corinthians 5:17-20.
A. Ask class members to share a short thought on what the main idea of this text is.
B. What does it mean to have the [...]