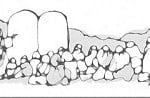 Key Thought : Jesus tells us that He did not come to do away with the law, but to magnify it and show the need of the Holy Spirit in order to keep it.
[Lesson plan for Christ and the Law in the Sermon on the Mount April 21, 2014]
1. Have a volunteer read Matthew 5:17-20.
a. Ask class members to share a thought on what the most important point in this text is.
b. Why does Jesus emphasize the law […]