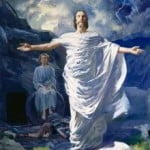 "The day of resurrection –"
John Wesley sang,
"Earth, tell it out abroad!
The passover of gladness,
The passover of God!"
But that brings us no closer. What does that mean?
The answer lies far, far away. Go back in time. Back a hundred generations, to the margin of the Roman Empire, in a little province called Palestine, where a small band of people have just gone straight to hell.
Over the past few years, they had learned something wonderful. They […]