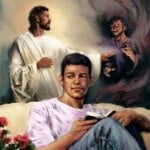 As deep and pervasive as the effects of sin have been on humanity, our plight is not irreversible.
The Bible speaks about the possibility of renewal and restoration of the image of God in us, at least to some degree.
Study the following passages carefully: Rom. 8:29; 2 Cor. 3:18; Eph. 4:23-24. What hope is presented?
The Bible clearly holds up the hope for us to be remade in God's image. The renewal of the image of God in humanity is accompanied […]