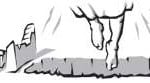 Read for This Week's Study: 1 Thess. 4:13-18; Acts 17:3; 1 Cor. 15:20-23, 51-58; John 5:28, 29; Rev. 20:4-6.
Memory Text: "For the Lord himself shall descend from heaven with a shout, with the voice of the archangel, and with the trump of God: and the dead in Christ shall rise first" (1 Thessalonians 4:16).
Key Thought: Paul gives the Thessalonians (and us) a powerful hope for the future, the promise of the second coming of Christ.
In the passage for this week (1 Thess. 4:13-18) Paul is reacting to a theological misunderstanding among the […]