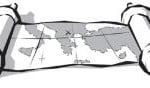 Read for This Week's Study: John 11:48-50, 1 John 2:15-17, 1 Cor. 9:19-27, John 3:3-8, 1 Cor. 16:19.
Memory Text: "Though I am free and belong to no man, I make myself a slave to everyone, to win as many as possible" (1 Corinthians 9:19, NIV).
Key Thought: A short study of the context of ancient Thessalonica demonstrates that Paul's approach to the citizens of Thessalonica was unique and carefully crafted.
The primary focus of this lesson will be a summary of what history, literature, and archaeology tells us about Thessalonica.
This […]