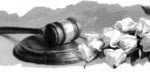 Read for This Week's Study: 1 Cor. 3:13; 2 Cor. 5:10; Genesis 3, 6; John 3:17–21; Rev. 14:6, 7.
Memory Text:
"For God shall bring every work into judgment, with every secret thing, whether it be good, or whether it be evil" (Ecclesiastes 12:14).
Key Thought: God's judgment is as pervasive in the Bible as is the theme of salvation; in fact, the two teachings are intricately entwined.
A soldier stood next to an old man about to be executed. He was guilty of being the "wrong" race and religion, nothing more. [...]