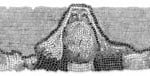 Read for This Week's Study:
Gal. 3:1–14, Rom. 1:2, 4:3, Gen. 15:6, 12:1–3, Lev. 17:11, 2 Cor. 5:21.
Memory Text:
"Christ redeemed us from the curse of the law by becoming a curse for us—for it is written, 'Cursed is everyone who is hanged on a tree'" (Galatians 3:13, ESV).
A little boy had made a little boat, all painted and fixed up beautifully. One day someone stole his boat, and he was distressed. In passing a pawnshop one day he saw his boat. Happily he ran in to the pawnbroker and [...]