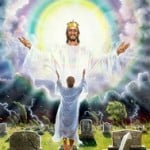 Read Hebrews 11:32-12:4. What do these verses say to you, personally, about the cost and the reward of discipleship?
Image © Pacific Press from GoodSalt.com
What a powerful concept this passage reveals, especially in the verse that says: Women received their dead raised to life again. Others were tortured, not accepting deliverance, that they might obtain a better resurrection (Heb. 11:35, NKJV).
In a sense, being both a disciple and disciple-maker can be boiled down to one thing: a better resurrection. We [...]