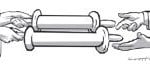 Read for This Week's Study: 2 Thess. 2:13-3:18, Acts 17:11, Luke 10:25-28, Matt. 7:24-27, 18:15-17.
Memory Text: "So then, brothers, stand firm and hold to the traditions that you were taught by us, either by our spoken word or by our letter" (2 Thessalonians 2:15, ESV).
Key Thought: Even with all the grand and glorious promises for the future, we have to deal with daily challenges and struggles in the church. The Thessalonian church was no exception.
Churches are a lot like plants. If a plant does not grow, it will [...]