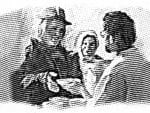 Read for This Week's Study:
1 John 4:18-19; Rom. 3:19-20; John 15:13; Rom. 5:6–8; John 6:28-29.
Memory Text:
" 'If you love Me, keep My commandments' " (John 14:15, NKJV).
Key Thought:
We should work to win souls to Christ; the question we need to ask ourselves is, What motivates us to do just that?
Although our memory text is most often considered to refer to the Ten Commandments, there are other commandments, as well, not the least being " 'Go therefore and make disciples of all the nations' " (Matt. 28:19-20, [...]