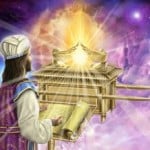 Fundamental Belief No. 24 opens with the following words:
"There is a sanctuary in heaven – the true tabernacle which the Lord set up and not man" (see Heb. 8:2). One of the matter-of-fact assumptions of the Bible is the existence of a heavenly sanctuary (Ps. 11:4).
Read Hebrews 8:1-5. What is the main point taught in these verses?
The earthly sanctuary is portrayed as a type, or pattern, of the heavenly; this means that, at a minimum, the former has [...]