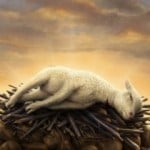 The earthly sanctuary service revealed three phases of salvation:
substitutionary sacrifice, priestly mediation, and judgment. The Bible teaches that all three phases of salvation are embodied in the ministry of Christ on behalf of sinners.
Read Isaiah 53:6; Romans 3:24-25; 2 Corinthians 5:21. How does Christ's death on the cross satisfy the substitutionary aspect of salvation?
What do these texts say about both Christ and mediation on behalf of sinners? 1 Tim. 2:5, Heb. 7:25.
Just as animal sacrifices pointed to the death of [...]