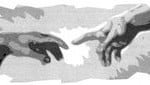 Read for This Week's Study: Gen 1:27; 1:26; Mark 12:13-17; Gen. 2:19-25; Acts 17:26; Rom. 5:12-19.
Memory Text: "Know ye that the Lord he is God: it is he that hath made us, and not we ourselves" (Psalm 100:3).
Key Thought: God created humanity in His own image; sin defiled that image. God's plan is to restore that image in us.
A nineteenth-century thinker, Arthur Schopenhauer, while deep in thought about the essence of human identity, accidently bumped into someone on the street. The person whom he hit angrily demanded, "Who […]