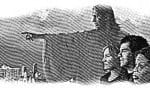 Read for This Week's Study:
Acts 4:33, 13:48, 1 John 1:3, Acts 13:1–49, 22:2–21, 1 Pet. 3:15.
Memory Text:
" 'Go therefore and make disciples of all the nations, baptizing them in the name of the Father and of the Son and of the Holy Spirit, teaching them to observe all things that I have commanded you; and lo, I am with you always, even to the end of the age' " (Matthew 28:19-20, NKJV).
An employee often is given a "job description." It's a detailed account of expected duties.
The […]