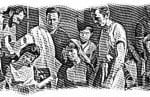 Read for This Week's Study:
Acts 4:1–31, 21:19–25, 1 Cor. 9:19–23, Num. 13:17–33, Acts 11:1–18.
Memory Text:
"Then the apostles gathered to Jesus and told Him all things, both what they had done and what they had taught" (Mark 6:30, NKJV).
Key Thought:
As a report of the early church's missionary endeavors, the book of Acts is filled with lessons for us today.
The incredible growth of the early church has caused many to study the book of Acts. Consequently, many areas of church life have been examined in the light […]