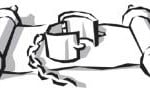 Read for This Week's Study: Acts 16:9-40; Acts 17:1-4,12; Jer. 23:1-6; Isa. 9:1-7; Isaiah 53:1-12; Rom. 1:16.
Memory Text: "And we also thank God continually because, when you received the word of God, which you heard from us, you accepted it not as the word of men, but as it actually is, the word of God, which is at work in you who believe" (1 Thessalonians 2:13, NIV).
Key Thought: Our assurance of God's promises must be based on our confidence in His Holy Scriptures.
The young pastor sat outside with […]