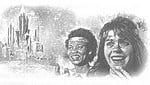 Read for This week's Study: Rev. 21:1-5, Gen 3:19, 1 Cor. 15:52-58, Gen. 6:11-13,Isa. 11:6-9,John 14:1-3.
Memory Text: "But in keeping with his promise we are looking forward to a new heaven and a new earth, where righteousness dwells" (2 Peter 3:13, NIV).
In 2 Peter 3:10-13, Peter describes the fate of heaven and earth. Both, along with all that they contain, will be destroyed.
But that's not the end of the story, not by a long shot, because a new heaven and a new earth will be created in […]