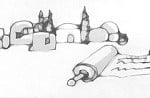 Read for This Week's Study: Luke 2:1-5, Heb. 10:28, Deut. 17:2-6, Lev. 1:1-9, Luke 14:1-6, James 2:8-12.
Memory Text: For when Gentiles who do not have the Law do instinctively the things of the Law, these, not having the Law, are a law to themselves (Romans 2:14, NASB).
In most societies, various laws function at the same time. There can be general laws that apply to everyone and, simultaneously, local laws that prevail in one community but not in another.
In New Testament […]