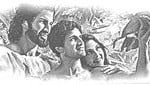 Key Thought : Marriage is a blessing when the Divine principles are understood and followed. Marriage guards the purity and happiness of humanity, provides for our social needs, and elevates the moral nature.
[Teaching plan for Marriage: A Gift From Eden February 25, 2013]
1. Have a volunteer read Genesis 2:21,22.
A. Ask class members to share a short thought on what the main idea of this text is.
B. What was the significance of God making Eve out of a rib [...]