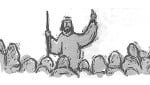 Key Thought : Malachi's message is that though God has revealed His love for them: they were not being accountable to Him in obedience and love, but were going through a formal, ritualistic worship.
[Teaching plan for Lest We Forget June 24, 2013]
1. Have a volunteer read Malachi 2:6-9.
A. Ask class members to share a short thought on what the main idea of this text is.
B. Do we hold priests, pastors, and ministers more accountable for their behavior because they […]