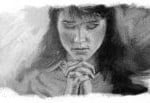 Key Thought : Prayer is the most important way of communing with God and should be engaged in as much as possible. Christ showed that prayer attitudes such as humility, persistence, and acceptance of God's will greatly helps us.
[Teaching Plan for "The Promise of Prayer" March 7, 2012]
1. Have a volunteer read Matthew 26:39-41.
A. Ask class members to share a short thought on what the main idea of this text is.
B. Why was Jesus asking not to do [...]