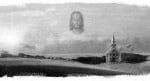 Key Thought: Jesus, our Creator and Redeemer, gave us the Sabbath as a sign between Him and His people. It is His day given to man to enjoy a special time with Him.
[Teaching plan for "Lord of the Sabbath" February 15, 2012]
1. Have a volunteer read Mark 2:27,28.
A. Ask class members to share a short thought on what the main idea of this text is.
B. What does it mean that the Son of man is Lord also of […]