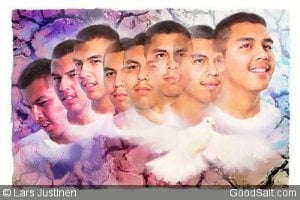 Someone sits in a restaurant, consuming a large meal, filled with fatty food that they wash down with a soft drink. They then finish off with a large bowl of chocolate ice cream covered in hot fudge. That night, before going to bed (and having a little snack before then, too), they get on their knees to pray. Part of their prayer is, "O Lord, please help me lose weight."1
What's wrong with this picture?
The fact is, we can expect God to answer our prayers, but there are things we need to do in the process. It has been said that we need to live out our prayers; that is, we need to do all that we can, in our power, to see them answered. This isn't humanism, nor is it showing a lack of faith. On the contrary, it's part of what living by faith is all about.
"If we regard iniquity in our hearts, if we cling to any known sin, the Lord will not hear us; but the prayer of the penitent, contrite soul is always accepted. When all known wrongs are righted, we may believe that God will answer our petitions. Our own merit will never commend us to the favor of God; it is the worthiness of Jesus that will save us, His blood that will cleanse us; yet we have a work to do in complying with the conditions of acceptance."—Ellen G. White, Steps to Christ, p. 95.
She's not saying that we have to be perfect in order to have our prayers answered. She's clear, too, that our acceptance with God is not based on us or on our merit but only on the merits of Christ for us. She is saying that we have to be in an attitude of faith, humility, and surrender to God's will in order for Him to be able to work in our lives.
How do the following texts help us understand what it means to "comply with the conditions"? (See Heb. 10:38, Deut. 4:29, Luke 9:23, John 14:15, 1 Thess. 4:3.)  
---
---
Perhaps, of all the conditions necessary for us to have an effective prayer life, the central one is our own sense of need, our own sense of helplessness, our own sense that we are sinners in need of grace, and that our only hope exists in the Lord, who has done so much for us. To be arrogant, self-assured, and full of oneself is a recipe for spiritual disaster.
What are the things you're praying fervently for? As you pray, ask yourself, What could I be doing differently that could help bring about the answer that I so desperately want?
Amen!

(

0

)

Print/PDF/Email