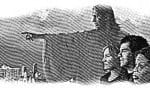 Read for This Week's Study:
Acts 4:33, 13:48, 1 John 1:3, Acts 13:1–49, 22:2–21, 1 Pet. 3:15.
Memory Text:
" 'Go therefore and make disciples of all the nations, baptizing them in the name of the Father and of the Son and of the Holy Spirit, teaching them to observe all things that I have commanded you; and lo, I am with you always, even to the end of the age' " (Matthew 28:19-20, NKJV).
An employee often is given a "job description." It's a detailed account of expected duties.
The Bible also speaks about a "job description," and in this case it's one for God's people. In 1 Corinthians 15:58 (NKJV), the apostle Paul admonishes the Corinthian believers to "always abounding in the work of the Lord." While Paul does not specify to what work he is referring, a similar phrase is used in 1 Corinthians 16:10, with reference to the work of the Lord done by Timothy and Paul in evangelism and witnessing about Jesus Christ and the plan of salvation. Thus, Paul's admonition in chapter fifteen certainly included the work of spreading the gospel.
This week we will explore what evangelism and witnessing actually are; in other words, we'll seek to uncover our biblical "job description."
Study this week's lesson to prepare for Sabbath, April 7.
Amen!

(

0

)

Print/PDF/Email