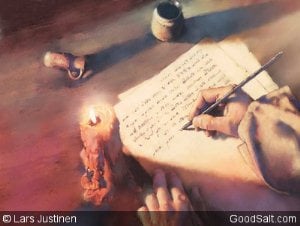 Bible scholars have often been impressed by the incredible literary quality in the Bible. In fact, many secular colleges teach courses on the Bible as literature. They study it, not because they think it is the Word of God but simply for its literary beauty.1
As Christians, we have the blessing not only of enjoying the literary beauty of the Scriptures but of learning the truths about God as revealed in the Bible. No doubt, too, the artful construction of the narratives and the poetry, all influenced by the Spirit of the Lord (yet written out through the words of God's prophets), goes a long way in helping us understand the truth contained therein.
The apostle Paul, for instance, with his complex theological discourse, regularly punctuates his theology with powerful literary devices. For example, in the first eleven chapters of the book of Romans, Paul gives a comprehensive account of the gospel. Look through these chapters and note the various topics Paul weaves together.
Read Romans 11:33–36. What is happening here after all that came before it?  
---
---
Like a hiker who has reached the summit of a high mountain, the apostle—who has taken in the vast panorama of salvation history—now bursts into praise. Before Paul goes on to outline the practical implications of the gospel, he worships.
Paul exhibits this subtle literary rhythm several times in his epistles and letters: intricate theological reasoning interlaced with praise to God before concluding with practical counsel.
The book of Revelation also is filled with an imposing mosaic of literary devices through which God portrays salvation history. Much of the book was taken from the Old Testament. The reader is presented with an exceedingly complex tapestry of words, phrases, and themes borrowed from other biblical writers but now woven together into an entirely new fabric. This final book in the Bible is in a style vastly different from what Paul and the Gospel writers used. Instead, we are almost overwhelmed with a profound aesthetic display carefully structured around seven scenes of the heavenly sanctuary, each one opening with deeper access into the heavenly court.
The book of Revelation is an extensive aesthetic display. God could have furnished John with a standard historical document to present the course of the salvation story. Instead, what we find are stunning pictorial vistas portraying the working out of the great controversy between Christ and Satan, expanding on the imposing apocalyptic display given earlier to Daniel and Ezekiel.
Imagine reading the Bible only as literature. Talk about missing the point! What lessons can we learn about how easily we can have truth right before our eyes and yet miss it completely?
Amen!

(

0

)

Print/PDF/Email