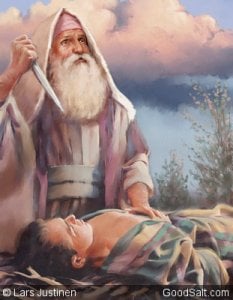 By faith Abraham obeyed when he was called to go out to the place which he would receive as an inheritance. And he went out, not knowing where he was going. (Hebrews 11:8 NKJV)
He who believes in the Son has eternal life; but he who does not obey the Son will not see life, but the wrath of God abides on him." (John 3:36 NASB)
For it is not those who hear the law who are righteous in God's sight, but it is those who obey the law who will be declared righteous. (Romans 2:13 NIV 1984)1
Obedience is not just an Old Covenant concept. It is an essential element of the New Covenant as well. A saving faith is a faith that is demonstrated in obedience, as the example of Abraham so powerfully illustrates.
It has been said that "It takes money to make money." The same can be said of obedience as it pertains to the Christian walk: It takes obedience to become obedient. We need to choose to obey the call of God that we might be given the power to obey Him in all things.
Salvation is not something that just happens. We don't make salvation happen. God does. God has made salvation available to all, but we must choose to accept it.
Man's natural tendency is to want to take credit for earning salvation by good works. We know that this is not how salvation works, but in our desire to avoid saying that we do anything to earn salvation, we sometimes take ourselves out of the picture regarding our part in living a Christian life.
When we discuss obedience, we're not throwing out faith. We're just focusing on another very practical aspect of salvation.
Imagine the following scenario:
You are adrift on a raft, headed to a waterfall. Someone comes by in a helicopter to rescue you. They throw down a rope ladder and tell you to grab a hold of it, climb up and hang on. You can obey them, or disobey them of your own volition. If you disobey, you will most certainly die. If you obey them partially (you grab hold, but don't climb up; you grab hold and climb up, but let go before the helicopter gets to land; etc), you will also die. So obedience is very much a key to your being saved from the water.
Now, no one in their right mind, upon being placed safely on the dry land, would ever consider making the claim that they had saved themselves simply because they held on as instructed. And it is quite impossible imagining a place where the work of holding on is deemed more important than the work of flying the helicopter, finding the victim, dropping down the ladder, and flying back safely to dry land. At the same time, one cannot deny that obedience was important for the person being saved, and that a lack of it would have undermined the salvation of the victim (i.e. led to destruction).
When we exercise our faith in God – the faith that God has given us to begin with – it becomes strengthened. Likewise, as we obey God, we are sanctified (ongoing process) and enabled to render even more obedience which is essential for our character building.
God gives us a new heart – one that loves Him and desires to serve Him – but our characters are built over time, rather than handed to us outright. Character is nothing more than a solid collection of habits which are built by a solid collection of actions, which are built by a solid collection of thoughts. We need habits of obedience (among other things) to be fitted for heaven. And it all starts by obeying God.
We submit to God… God empowers us to do His will… we continue to obey… He empowers us to do more of His will… and so on and so forth. (Philippians 2:13) Without God's saving grace, we have only our useless self-righteousness, but our obedience is crucial. We must choose to obey.
Obedience cannot be removed from the equation.
Love cannot be removed from the equation.
The grace of God cannot be removed from the equation.
Faith in Jesus cannot be removed from the equation.
The Faith OF Jesus cannot be removed from the equation.
Repentance cannot be removed from the equation.
Various other things that I have not mentioned cannot be removed from the equation of our salvation.
We need God to be able to obey AND we need to obey God to be within His will. We can quibble about the exact sequence all we want, but given that the topic of salvation will be an eternal study for us, we need to accept that it's an inherently complex subject, and a lot more interconnected than we often make it out to be.
The Bible shows us both sides of obedience because both sides are true. We need God before we can obey, and we must choose to obey to receive the power to obey.
Let us press towards the mark…
Know ye not, that to whom ye yield yourselves servants to obey, his servants ye are to whom ye obey; whether of sin unto death, or of obedience unto righteousness? (Romans 6:16 KJV)
Amen!

(

0

)

Print/PDF/Email