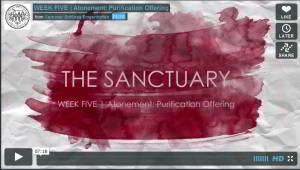 Professor Martin Pröbstle's commentary on Lesson 7 is now available through the SanctuaryLesson.org domain on Vimeo.  In his warm, engaging manner this young professor from Schloss Bogenhofen in Austria shares what he sees as the key thoughts of this lesson in just under 7 minutes. (If you haven't seen the previous videos, we suggest you check them out too through the link above.)
Direct link to Lesson 7: "Christ, Our Sacrifice," (downloadable) or click on the video below, if you can see it:
[weaver_vimeo http://vimeo.com/79181214 autoplay=0 loop=0 portrait=1 title=1 byline=1]
WEEK SEVEN | Christ, Our Sacrifice from Seminar Schloss Bogenhofen on Vimeo.
We understand that some Sabbath School teachers have been showing these short videos at the beginning of their classes as an introduction to the day's lesson. If you are teaching this week, you might want to consider showing it on a notebook computer or tablet with speakers in a small class or on a big screen in a larger class in the main sanctuary.
If you can't view the video properly on your mobile device, check out the Youtube version. It will likely play in your Youtube app:
[Note: Link now goes to Lesson 7. Original link went to Lesson 5]
[weaver_youtube id=41uQLqMfzCU autoplay=0 rel=0 ]
Amen!

(

13

)

Print/PDF/Email