Rebellion and Redemption Digital Resources Available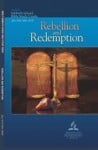 Some of you may be interested to know that the Kindle version of the Redemption and Rebellion Sabbath School Quarterly has just been released. Text-to-speech enabled. You can study that on your phone, tablet or computer without an internet connection, but you may have to be connected to the internet to use the speech-enabled feature on a Kindle app if you do not own a Kindle device. (Canadian link.)
Also available in Kindle format is the companion book by David Tasker, the lesson author. Those who like to go deep into the lessons will appreciate this extra resource. Text-to-speech enabled. See footnote regarding text-to-speech ability. 
Ellen White comments are available in two editions – the "official" version from Pacific Press (99 pp, text-to-speech enables) and the alternate version edited by J L MalmedeVanAllen (196 pp, text-to-speech enabled). 1
Check them out and let us know which you find to be more helpful. 
You can also see these in our US Sabbath School Net Store and in our Canada Sabbath School Net Store. 
---
Amen!

(

5

)

Print/PDF/Email