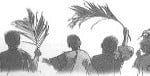 Read for This Week's Study: Ps. 127:3-5; Deut. 6:6-7; Luke 2:40-52; Matt. 18:1-6, Matt. 10-14; Mark 10:13-16.
Memory Text: Do you hear what these children are saying? they asked him. Yes, replied Jesus, have you never read, From the lips of children and infants you have ordained praise? (Matthew 21:16, NIV).
In our desire to preach to the world and to make disciples from every nation, we must not forget a whole class of people – children.
Christian studies regarding children […]