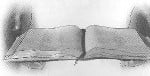 Read for This Week's Study: Luke 4:1-12, Matt. 12:3-8, Matt. 5:17-39, Luke 24:13-32, Acts 1:16-20.
Memory Text: Search the scriptures; for in them ye think ye have eternal life: and they are they which testify of me (John 5:39).
Using a metal detector purchased from a rummage sale, Englishman Terry Herbert discovered gold-plated Anglo-Saxon weaponry and silver artifacts buried beneath a farmer's field. The estimated monetary value of the find exceeded 5 million U. S. dollars.
Like someone seeking treasure in a field […]