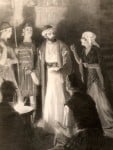 Thursday's section of this week's Sabbath School lesson asks:
Have you ever messed up really badly and when you expected only condemnation and judgment, you were given mercy, grace, and forgiveness instead?
Peter  vowed to follow Jesus even if it cost him his life. When Jesus was arrested, Peter whipped out his sword and swung at a soldier's head, catching only his ear. Then Peter found himself in the judgment hall.
A servant girl came over and said to him, "You were one of […]