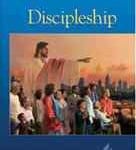 [Introduction to The Master of Discipleship December 27, 2013]
In the beginning God created a perfect, sinless world. Human beings enjoyed the privilege of honoring, worshiping, and following their Creator. Life should have continued thus for eternity.
Satan, however, seduced our first earthly parents, thus robbing humanity of ultimate meaning, purpose, and significance. Rebellion multiplied, infecting the entire planet.
Christ's sacrifice provided our only hope. Calvary's redemption offers us freedom and our only escape from insignificance and meaninglessness. Sinful humans were offered liberty, […]