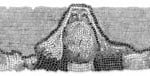 Key Thought: Paul opens his letter to the Galatians with an authoritative and succinct reference to God's gifts of grace and a denunciation of any contrary doctrine.
[Teaching Helps for Lesson 2: Paul's Authority and Gospel, Oct 8, 2011]
1. Have a volunteer read Galatians 1:1-5
A. Ask class members to share a short thought on what the main idea of this text is.
B. Are the words grace and peace just words of greeting here or do they have […]