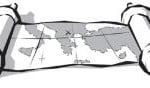 Key Thought : Presenting the gospel in a way that meets the needs of others requires a solid grasp of the Word and an understanding of the needs of those we wish to reach.
[Teaching plan for "Thessalonica in Paul's Day" July 16.2012]
1. Have a volunteer read John 11:48-50.
A. Ask class members to share a short thought on what the main idea of this text is.
B. How does the current political situation in your community affect the work of […]