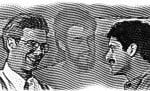 Read for This Week's Study:
Acts 4:13-14; John 1:37–50; Psalm 139; 1 Pet. 3:1–15; John 4:37-38.
Memory Text:
"'You are My witnesses,' says the Lord, 'and My servant whom I have chosen'" (Isaiah 43:10, NKJV).
Key Thought:Those who have the joy of assurance of salvation will want to lead others to experience the same.
Although many people will hear the good news about Jesus through a church's witnessing and evangelism endeavors, there is a special sense in which the individual's influence contributes significantly to the success of the corporate church […]