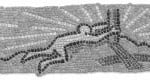 Read for This Week's Study:
Gal. 2:15–21; Eph. 2:12; Phil. 3:9; Rom. 3:10–20; Gen. 15:5, 6; Rom. 3:8.
Memory Text:
"I have been crucified with Christ. It is no longer I who live, but Christ who lives in me. And the life I now live in the flesh I live by faith in the Son of God, who loved me and gave himself for me" (Galatians 2:20, ESV).
As we saw last week, Paul publicly confronted Peter in Antioch for the lack of consistency between the faith he advocated and [...]