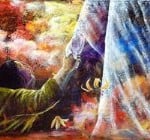 In the book of Hebrews, Paul not only focuses on the theological understanding of Christ's sacrifice, he also explains some of its practical implications.
At several places he shows what happens if someone ignores this sacrifice.
Read Hebrews 6:4-6 and 10:26-31. About what is Paul warning us? What kinds of attitudes does he describe?
In the book of Hebrews, Paul demonstrates how magnificent God's salvation is, how God has revealed Himself, and what He has done and […]