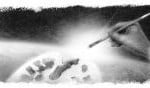 Read for This Week's Study: Isa. 64:5–8, Ps. 51:10, Heb. 8:1–5, 1 Chron. 23:5, Rom. 11:33–36, Acts 9:1–22.
Memory Text:
"One thing I have desired of the Lord, that will I seek: that I may dwell in the house of the Lord all the days of my life, to behold the beauty of the Lord" (Psalm 27:4, NKJV).
Key Thought: God as artist? What does that mean? And what does it mean for us?
So far, we've looked at various aspects of the Lord: the Trinity, God's holiness, and God as [...]