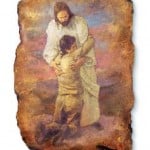 During the weeks before Pentecost, the disciples earnestly sought God in prayer.
Acts 1:14 says that they were in "one accord in prayer and supplication." This experience of "one accord" reveals a strong unity and harmony among Christ's followers that would not have been possible without repentance and confession. Prayer and confession prepared them for what was going to come.
Read Acts 5:30-32. What important points can we take from what Peter said here?
Peter makes two critical points. [...]