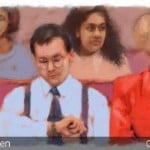 There is a gap between what Laodicea says and does.
There is an even greater gap between the spiritual experience that Laodicea thinks she has and what she actually does have .
Read Revelation 3:17. What is Laodicea's evaluation of herself? What is our Lord's assessment of her? How do you think a people could be so blinded to their true spiritual condition? In what ways might we be blind regarding our own spiritual condition?
One of Satan's [...]