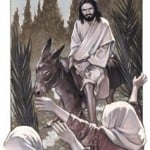 Read Zechariah 9:9. How does the New Testament apply this to Jesus?
See Matt. 21:9, Mark 11:9-10, Luke 19:38, John 12:13-15.
Jesus' triumphal entry consisted of the future King riding on a donkey into Jerusalem. In the Bible, rejoicing and shouting for joy especially is associated with the celebration of God as King (Psalms 47, 96, 98). This gentle Ruler will bring righteousness, salvation, and lasting peace, and His dominion will stretch to the ends of the earth.
When Jesus triumphantly rode a donkey into Jerusalem [...]