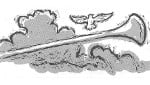 Read for This Week's Study: Joel 1, 2:28-29, Acts 2:1-21, Joel 2:31-32, Rom. 10:13,Matt. 10:28-31.
Memory Text: "The Lord thunders at the head of his army; his forces are beyond number, and mighty are those who obey his command. The day of the Lord is great; it is dreadful. Who can endure it?" (Joel 2:11, NIV).
Key Thought: God can use crises to make His people sensitive to both their dependence on Him and their need for spiritual renewal and reformation.
On the massive locust plague and severe drought that were [...]