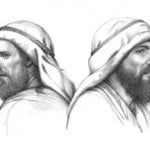 Read the book of Obadiah.
What important moral and spiritual truths can we take away from this book?
Obadiah is the shortest book in the Old Testament, and it reports on the prophetic vision of God's judgment upon the land of Edom. The message of the book focuses on three issues: Edom's arrogance (vss. 1-4), Edom's coming humiliation (vss. 5-9), and Edom's violence against Judah (vss. 10-14).
The Edomites were the descendants of Jacob's brother Esau. The hostility [...]