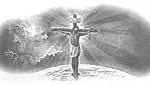 Key Thought : Creation is critically important to the plan of salvation. The creation of a new heart is one only God can make and is based on the idea of a perfect Creation that fell and needs redemption.
[Teaching Plan for Creation and the Gospel March 18, 2013]
1. Have a volunteer read Genesis 3:21-24.
A. Ask class members to share a short thought on what the main idea of this text is.
B. Where did God get the skins to [...]