First Quarter 1997
Introduction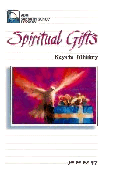 Spiritual Gifts
Keys to Ministry
The New Testament presents spiritual gifts as operational tools for ministry in the church. The Holy Spirit assigns a gift or a mixture of gifts to individual Christians. Passages in Romans, 1 Corinthians, Ephesians, and 1 Peter describe or allude to twenty-seven spiritual gifts. The Bible does not give a specific definition of a spiritual gift; it illustrates how these gifts function.
The set of spiritual gifts assigned an individual by the Holy Spirit constitutes the framework for that person's lifelong primary ministry in the church. The degree to which Christians put their spiritual gifts to work for the Lord depends on their commitment to discipleship and response to the Lord's call.
Spiritual gifts may of may not match natural inherited talents, abilities developed through education for a profession, or job skills developed in the workplace. Sometimes the Holy Spirit assigns gifts that match a person's personality profile and sometimes not. It all depends on what ministry the Holy Spirit wants each to do.
Seventh-day Adventists believe that the spiritual gifts manifested in the early Christian church still function in today's church.
Fundamental Belief No. 16 states: "God bestows upon all members of His church in every age spiritual gifts which each member is to employ in loving ministry for the common good of the church and of humanity. Given by the agency of the Holy Spirit, who apportions to each member as He wills, the gifts provide all abilities and ministries needed by the church to fulfill its divinely ordained functions. According to the Scriptures, these gifts include such ministries as faith, healing, prophecy, proclamation, teaching, administration, reconciliation, compassion, and self-sacrificing service and charity for the help and encouragement of people. Some members are called of God and endowed by the Spirit for functions recognized by the church in pastoral, evangelistic, apostolic, and teaching ministries particularly needed to equip the members for service, to build up the church to spiritual maturity, and to foster unity of the faith and knowledge of God. When members employ these spiritual gifts as faithful stewards of God's varied grace, the church is protected from the destructive influence of false doctrine, grows with a growth that is from God, and is built up in faith and love."--Seventh-day Adventist Yearbook, 1995, pp.6,7.