---
When did we stop believing? When did we begin to take pride in declaring our doubts about our salvation?
I was in a Sabbath school class recently when, during a discussion about salvation, a long-time member raised a hand for comment. "We should never say that we're saved!" A partial but oft-quoted Ellen White statement was the basis of the admonition to the class. Thus began a lively exchange about the assurance of salvation.
Rebuttal texts like the following were then quoted:
And they [...]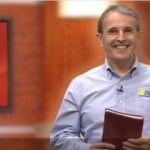 You can view a discussion of the current lesson in the Hope Sabbath School class led by Pastor Derek Morris. (Adobe Flash Player version.) A Youtube version of this week's lesson at Hope Sabbath School is below. You can download the video, the MP3 audio, and the lesson outline from the HopeTV Sabbath School Site. You might also want to bookmark the HopeSS Youtube channel.


Key Thought : As we review the gift of God's grace through Christ, let us renew our faith in Jesus as our personal Savior.
[Lesson plan for Salvation July 21, 2014]
1. Have a volunteer read Luke 18:9-14.
a. Ask class members to share a thought on what the most important point in this text is.
b. What does this story teach us about our attitude toward God and toward His grace?
c. Personal Application: If God gave you what you deserved, what would [...]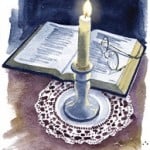 One Friday morning, I was helping in getting a friend's house "presentable" by pulling weeds in a flower bed when I found in my hands, not a clump of ugly weeds but, instead, a beautiful begonia! I had snapped it at the root, and there was no way I could now save it. In my mind I could hear Jesus telling me,
"See why I don't let you go pulling weeds in my church? You can't tell [...]

Doug Batchelor's teaching this week's lesson on the Holy Spirit in his usual thorough and clear style. Direct Youtube link. He focuses particularly on the Holy Spirit as a Person. We trust that this will aid your Sabbath School discussion this Sabbath. (You may have to turn your volume up a

---
Subscribe to our SSNET2 mailing list. On this list we distribute weekly helps from Michael Fracker and Joyce Griffith.