---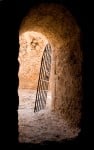 His name was Nelson Mandela. He is enshrined in history as a testament to the greater impulses of man. After being imprisoned 27 years of his life, much of it in brutal conditions, Mandela emerged with a message of forgiveness and tolerance. His witness was so compelling that his name has become synonymous with greatness, dignity, and honor.
His story of unjust imprisonment has been sadly only one of countless others who have suffered indignity, pain and torture without just cause. [...]

---
Subscribe to our SSNET2 mailing list. On this list we distribute weekly helps from Michael Fracker and Joyce Griffith.