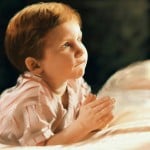 Scripture Songs
Singing Bible verses is arguably the best way to commit them to memory. Years later, at crucial times, these texts will surface in the memory. Help your kids to hide God's Word in their hearts. The best recordings will have easily understood words combined with a memorable tune.
Stories
Felt Illustrations
While computer animations and PowerPoint presentations are popular, there's still much to be said for old-fashioned "felt sets." The advantage of felt sets is that they engage young learners without the hyper stimulation of TV. Both teacher and children can be directly engaged in the stories, thus providing a clear focus for the class and holding the children's attention. Additionally, the felt experience is different from what they usually experience and thus has a special attraction.
NOTE: Because different publishers use different artists, styles vary quite a bit, and it is best to choose Bible sets from just one publisher to ensure that the figures are appropriately sized and look like they belong together. Examine the styles and choose one that you like.
---
Beginner to Primary Sabbath School Lessons
Gracelinks Curriculum
This is the current standard curriculum for Seventh-day Adventist churches.
This is a curriculum for leaders and teachers who prefer more structured lessons than the Gracelinks curriculum provides. Materials and stories contain true-to-life graphics instead of cartoon graphics. Resources include theme materials and visualized songs, teaching helps and memory verse aids.

My Bible First was started to help parents establish daily family worships. Children can understand the plan of salvation and the great controversy theme. All Bible lessons tell the Bible stories in the order they happened. Each week's lesson builds on what was learned the previous week to help children tunderstand how God has been working in history, and the consequences of choices. Free samples available.
Cradle Roll Lessons My Bible Stories is a 1-year cycle for ages 4 and under. The first two quarters cover the Old Testament, and the last two cover the New Testament. There are 52 lessons in 4 bound quarterlies.
Cradle Roll Theme Programs – included in Teaching Helps. Includes detailed instructions, as well as easy-to-copy 3×5 inch program cards with the script.
Visualized Songs, printed on card stock, with included midi files.
Kindergarten Bible Lessons My Bible Lessons is a 3-year cycle for ages 4 to 6. It presents the plan of salvation in chronological order, from Genesis to Revelation, in the context of the Bible stories.
Visualized Songs, printed on card stock, with included midi files.
---
Juniors/Teens (10 – 14)
GraceLinks Curriculum
Real-time Faith – Gracelink Lesson Resources for ages 13-14 in English, French and Spanish. These are mainly for larger churches which separate Junior and Earliteen classes. In smaller churches, this age group is usually combined with the Junior group, using a 4-year curriculum, or with the Youth group. The current student lesson is on the home page.
My Bible Says Junior/Teen Curriculum
Junior/Teen Bible Lessons 3-year cycle for ages 10 and up. It presents the plan of salvation in chronological order from Genesis to Revelation in the context of Bible stories. The last two quarters cover Reformation history and early Advent church history. In addition, Bible doctrines are presented in the context of the stories. Illustrations are true-to-life, rather than comic format.
 Young Disciple Curriculum for Juniors & Teens (Grades 5-8)
---
High-school Age (14 – 18)
Sabbath School Ministry Descriptions
Other Resources

Print/PDF/Email