We've had a tremendous amount of rain this year, with five inches just last Friday.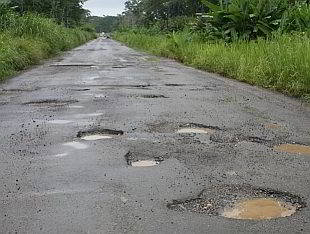 When I was driving in the pouring rain with the grandchildren, I told them we needed a boat, as every now and then, the water splashed up 20 feet or so on either side of the van. When the sun came out the next day, we saw washed-out driveways and big pot holes where the rain had washed away parts of roads. It will take some time before all the potholes are fixed.
My life has been full of potholes. Early in my 20's, not knowing what I was doing, I ended up pregnant by someone who wasn't interested in me. To bring a child into the world without a family and a father was the worst thing I could have done. To me it was the worst sin in the whole world. I didn't want it to happen and was broken-hearted. Life became so difficult, I hit rock bottom and thought, "If there really is a God, I need to know and I need help." I couldn't keep going on my own.
While driving, sometimes I listened to the radio. One time I heard someone saying on a talk show, "Talk to Jesus, He's your friend." This was something I had never heard and I was interested. Around the same time, some Christians came into the health food store I was managing, and they introduced me to a loving God and the Bible. I was thinking to purchase a cross on a chain to wear around my neck but decided on a Bible, since I loved to read and didn't wear jewelry. Then I joined a Christian congregation and was so happy to learn more about Jesus Christ and the Bible.
I loved my job at the health food store. We had a lunch counter, and I was able to give presentations on health topics. But now that I had a child to think about, I wanted to create a family and have some time for him instead of working full-time. My son was at the babysitter's every day, and I had reached a breaking point. When I picked him up at the end of the work day, I would be crying. I knew it was time for a change.
Thinking that I would live in a supportive and friendly environment, I  left the store and the community I loved, and moved into a mission-minded Christian community. I sorely missed the store and the life I had with supportive friends. To my surprise, I now found myself an outcast. I was told that I had to work twice as hard as everyone else, since I had no husband to support me. In order to be accepted I had to say all the right things, commit no wrongs, and follow all the rules—both spoken and unspoken. We had to wear long dresses and our hair up. If we wore pants, they were under the dress. We "swam" and rode bikes with pants under the dresses. My son was a good little boy, but the leaders didn't like him and they told me to spank him. I didn't want to and didn't like it, since we grew up with spankings, but I tried to please the leaders. We could only eat two meals a day. Men and women were not to be friendly, and if you were, you were accused of being interested in getting married.
Hope came from my Bible reading and promises, and I came across a book about God's love and acceptance. Whether my choices were  good or bad, God loved me and He forgave me when I  asked to be forgiven. But others in the community and church didn't see it that way. As a single mother, I was even a bad influence on young people since they would see I was never married. Thinking another move would help, I went to a Christian school community. My son and I had a room with our two beds, shelves, a table, two chairs and a small table with a toaster oven. I actually had a closet, which was an improvement over a nail on the wall for a closet, that I had at the previous place. I worked full time and brought my son with me.  My father no longer sent me any money, and I didn't have much money to buy food. There was a store on campus with a limited food supply, and I never shopped in town. Cabbage, soy beans, cornmeal and canned fruit made up our two meals that we ate in our room. I shared a bathroom with a family and washed my dishes in their bathroom sink. They didn't flush the toilet or drain their bath water – something I had never seen.
This community had more rules than the previous place I lived: the single people ate in a dining room with prepared meals but I wasn't allowed to be part of that group or mingle with them. I could eat almonds if I counted out eight, and other foods like raisins were measured. My bathroom neighbors told me to use only three squares of toilet paper for wiping. After living there for over a year, I found it unbearable. Living this way was too hard. I knew I was a sinner, but the  thought that I could never be good enough for anyone  and the feeling of being a failure affected me greatly and weighed me down. My biggest heartbreak was not being able to be much of a mother, since I had to work full-time.  I told a couple of friends in another state that I was leaving, with no money, no car and no place to go. One of those friends brought a small U-Haul trailer and moved my son and me to another friend's place. A short time later, I landed an elder-care job where I was a live-in and could have my son with me and had my days free. The family accepted and loved us, and life started to improve.
When my son was ten years old,  I married, and after living in other people's homes for eight years, we now had our own home. It was nice not to have to work, and I could concentrate on home-schooling. My greatest concern was for my husband to accept and love my son. It didn't happen, and we had years of angst. To help survive this new heart break, I visited counselors and support groups. These  people listened to me and accepted me unconditionally, which is something I never experienced.
When my son left for college, I worked part-time with the CHIP program in Rockford, IL, directly with the staff and the creator of the program. This proved to be a dramatic life-changing experience. Not only did I gain valuable experience for my future dream job, but I also met many people and found love and acceptance. This included loving families at the local church that befriended me and welcomed me into their homes and lives.
Thanks to God, my husband, family and friends, our lives have turned out all right. My dream job of nutrition and cooking instructor came my way and occasionally I get new job openings. Our son is head of design and strategy of the East coast division of an IT company. He is happily married and has two lovely children. We see each other often, and everyone in the family now gets along. In our local church, I am an active leader and teach the adult Sabbath school and occasionally give Bible studies. My husband and I work together for the church and other projects. We have opened our home to others, especially to single mothers, and tried to help their children.
God has been with me through the mistakes and bad choices, which created potholes I never imaged would be in my life. It has taken decades to fix these potholes which only God can repair. God wanted me happy, and to believe in His power in my life, rather than living by special rules. Rules and works didn't bring any good thing, but faith in Him has allowed the repairing of the potholes in my broken heart. Life still has its ups and downs, but my life is happier and more rewarding. Every day I am grateful for His presence in my life and I know He is willing to be there for you or any who open their hearts to him.
    
Amen!

(

54

)

Print/PDF/Email