Quarterly Index of Weekly Lessons | Introduction to the Quarter | Current Daily Lessons | Current Weekly Lesson | Daily Lessons by Email | Lessons in PDF Format| Teacher Resources | More Resources on How to Interpret Scripture | Previous Quarter: Daniel | Next Quarter: How to Make Friends for God
You may download the full lesson quarterly for studying How to Interpret Scripture from Amazon in Kindle format.  Main lesson authors are Frank M.Haseland Michael G. Hasel. You can order a paperback copy from the Adventist Book Center.
Frank M. Hasel, Ph.D., is an Associate Director of the Biblical Research Institute (BRI) at the General Conference of Seventh-day Adventists.
Michael G. Hasel, Ph.D., is Professor of Religion at Southern Adventist University and Director of the Institute of Archaeology and Lynn H. Wood Archaeological Museum.
The lesson authors have also written a stand-alone book for the Bible Bookshelf series, How to Interpret Scripture, as a companion to the 2020 Second Quarter lessons. It is available from Amazon in Paperback format and in Digital Kindle format.
(While you are at Amazon, you may want to try Amazon Prime – 30-Day Free Trial and get free 2-day shipping on most items plus other benefits.) You can also order the paper lesson in various formats from your Adventist Book Center (Call 1-800-765-6955).
Large Print and Teachers' editions are available only at your local Adventist Book Center in paper format (shipping charges apply). You can download PDF files for each week's lesson at the Adult Bible Study Guide site, including the regular Adult Lessons, Easy English, Teachers' editions. Spanish lessons are under "Other Languages."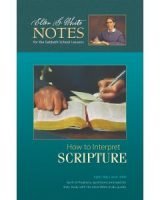 Ellen White Notes for Interpreting Scripture, April, May, June of 2020, is the Pacific Press version of Ellen White notes. These are available in Paperback format from the Adventist Book Center.

Available Later: Sabbath School Lesson Comments by Ellen White on Interpreting Scripture, April, May, June of 2020, edited by J. L. Malmede VanAllen. Each 96-page eBook contains one full page of reading for each day – no fillers or advertising, additional references for further study, and much more.
(Note: We get a small commission if you purchase books through our Amazon links but not the Adventist Book Center links.)
More Resources on Interpreting Scripture
You can read Kindle books on whatever device you are using to read this. I like keeping books on my smart phone, because that way I can use spare minutes to good advantage. Enjoy!
---
Recent Lessons
---
Note: Both versions of our lessons display nicely on most small screens. Our "Mobile" version (

), which links to BibleGateway, works better for some mobile devices. The main version, using Reftagger from Biblia.com works better for other mobile devices. So experiment and take your pick. (We're interested in what works best for you. Write to us through our "Contact" link and be sure to tell us with what device you are accessing our lessons.) The Study References (

) include all related Scriptures and context for most EGW quotations.
---
This Quarter's Study Contents: Interpreting Scripture
---
Editorial Office: 12501 Old Columbia Pike, Silver Spring, MD 20904
Come visit us at our Web site: https://www.absg.adventist.org
Amen!

(

9

)

Print/PDF/Email