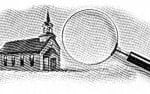 Read for This Week's Study:
2 Cor. 13:5-6; Heb. 10:24-25; Deut. 10:12-13; Matt. 23:15; Rev. 14:6-7.
Memory Text:
"To one who listens, valid criticism is like a gold earring or other gold jewelry" (Proverbs 25:12, NLT).
Key Thought:
It is a mistake to become involved in God's great task of evangelism without effective evaluation.
Too often we are satisfied with minimal results through evangelism when we could have had greater impact and significantly better success if we had evaluated previous witnessing and evangelistic endeavors and allowed our findings to influence future [...]