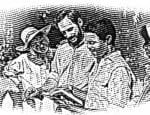 Read for This Week's Study:
2 Cor. 3:2, 3; Matt. 9:36–38; 1 Cor. 9:20–22; Mark 5:1–19; John 17:11–19.
Memory Text:
"At Joppa there was a certain disciple named Tabitha, which is translated Dorcas. This woman was full of good works and charitable deeds which she did"(Acts 9:36, NKJV).
Key Thought:
Whether we acknowledge it or not, all believers preach a message by the example of their lives.
It has often been said that Christianity is not just an adherence to a set of beliefs; it is also a way of [...]